What Bailey – the Office Dog – Has Taught Us About Customers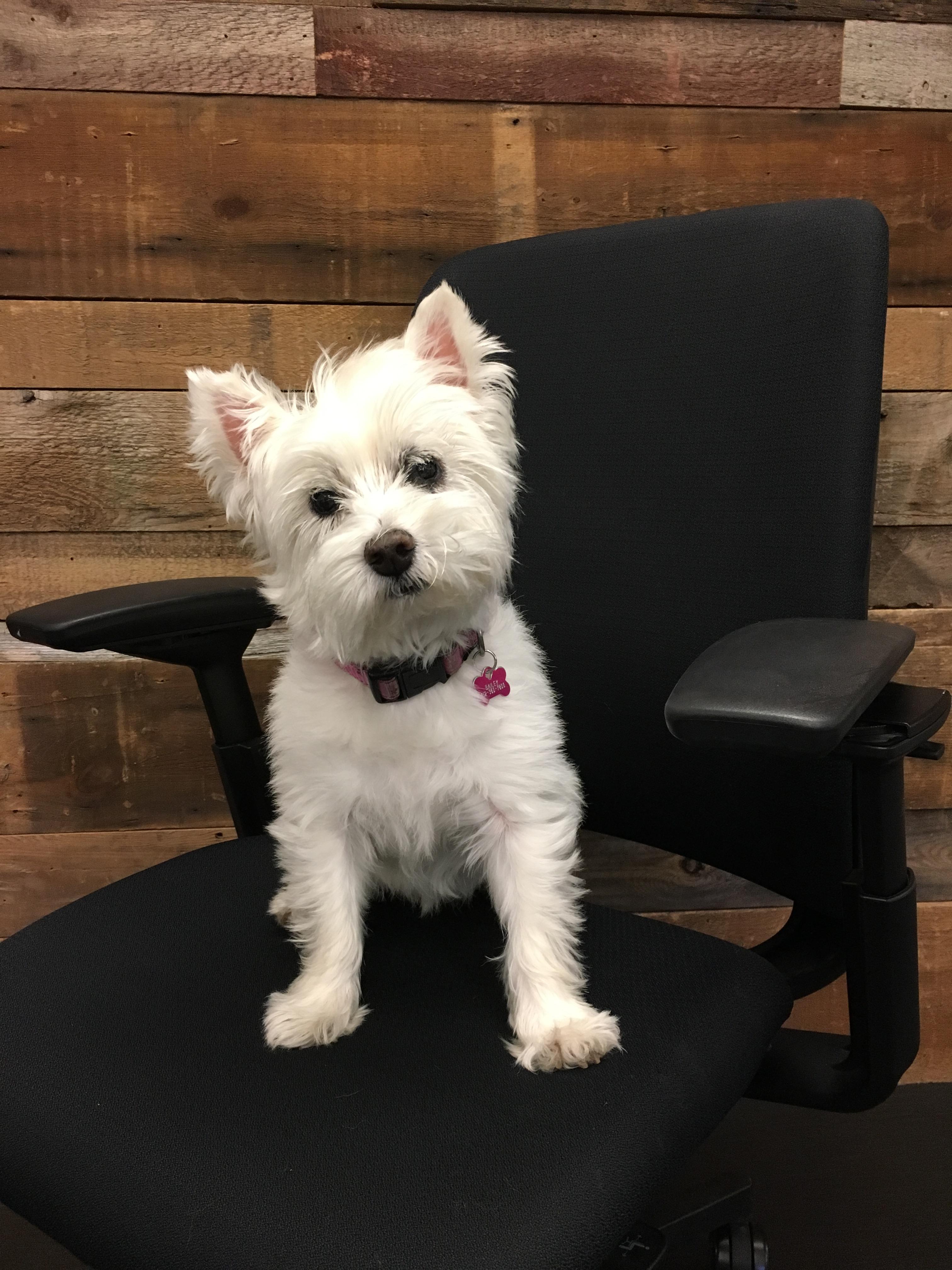 Bailey is the Etail Solutions office dog.
She runs the place.
Michael, Bailey's human and Etail's CEO, might disagree.
But when Michael calls Bailey he's usually ignored. When Bailey barks, Michael comes running. So who runs what?
Along with greeting visitors and creating heightened awareness for the importance of keeping your lunch bag off the floor, Bailey serves another important function here at Etail. Here's just a sample:
Form Long-Term Partnerships
Bailey's no young pup. But like most dogs, when she adopted Michael and his family, she was in it for life. At Etail, we're not looking for sales and projects; we're looking for partners that we can grow with together.
Loyalty is Earned
If you treat a dog well, it will be loyal for life. If you share your lunch with Bailey, she'll be your best friend forever. At Etail, we know customer loyalty is earned by treating customers with respect, honesty, hard work and trust.
Listen Until You Understand
Bailey is not the most rational, logical mind in the office (that would probably be the Developers or Implementation Team). But in terms of listening, she has the rest of us beat. Talk to Bailey and you'll get her full attention as she takes in every word you say with her head tilted and brown eyes fixed on your body language and facial expression. She truly tries to understand you and doesn't expect you to speak "dog". We try to follow Bailey's example; really listening to customers to understand their challenges from their viewpoint and in their language. Not just sell a prepackaged solution with a bunch of empty jargon.
Be Ready For New Adventures
Office visitors. People snacking at their desk. Team meetings or fierce ping-pong matches. Bailey's nose needs to be in the center of the action, ready for a new adventure. At Etail, we share Bailey's spirit of adventure, always pushing forward with our customers to explore new opportunities and new technologies to build our businesses together. Success should not be bound by legacy technology or old ways of doing things. As Bailey says, "Leashes are the enemy. Avoid them at all costs."
Messes Don't Clean Themselves Up
Sometimes things just don't go according to plan and someone has to clean up the mess. We know that often our true value to our customers isn't when everything is going right, but happens when something goes wrong and we can bring our extensive experience, talented staff, and single-minded focus on making things right to solve the customer's problem.
Avoid Bright Shiny Objects
Squirrel!!! Oops, sorry. Got distracted there. Bailey knows that chasing bright shiny objects – except squirrels – is often a waste of energy (and a good nap). Our customers tell us that they especially value the focus we bring to their business and to opportunities for growth. We help them discover and relentlessly focus on the high-leverage, high-growth areas for business improvement that will provide a competitive edge and immediate ROI.
Don't Wait For Opportunity, Create Your Own
When lunch comes out, Bailey is there. She knows the soft touches and the right places to be to get a treat, a tidbit of sandwich or the last bite of a cookie. She creates her own opportunities. How about you? Give us a call and discover how we work with fast-growing online merchants to create opportunity and take their business to the next level. Our average merchant more than doubles their business in their first year on the platform.
So what's it like to try to grow your business without Etail Solutions?
As Bailey would say, "Ruff".