Invasion of the Category Snatchers: Past Success on Amazon Doesn't Guarantee Future Success
Warren Buffet said that in ten years, the retail industry will be unrecognizable. The billionaire investor confirmed what we already knew when he sold off the last $900 million of his retail stock and said, "The department store is online now."
That's old news.
The real news is what's happening inside the online marketplaces.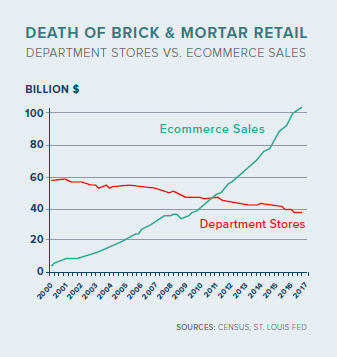 Sellers with basic operational capabilities are under siege and losing ground fast to more agile and sophisticated competitors. Sellers who cling to the old model won't survive. Systems and processes that were once useful must either be streamlined or eliminated. It's not an easy thing to do, but some sellers have done it. You can too. But time isn't on your side.
The original categories of top third-party sellers have become saturated. Growth is grinding to a halt. So, they're taking a page out of the playbooks of Amazon, eBay, and Walmart. They're expanding to new product categories – categories you may be selling in – and all of the systems and resources that catapulted them to the top of their original categories are coming with them.
Category expansion was how Amazon became the go-to online retailer – and it has sellers like you to thank for it. Amazon used third-party seller data to identify the fastest-growing and most profitable categories – a data-driven approach that practically guaranteed its success.
Category expansion was also the engine of eBay's spectacular growth.
Walmart expanded its online capabilities – and product categories – by acquisition, beginning with Jet.com shortly after Jet had acquired Hayneedle. In the next 7 months, Walmart also acquired:
Modcloth (women's apparel & accessories for ages 18-35)
Moosejaw (over 400 brands of outdoor gear and apparel)
Shoebuy (more than 800 brands in footwear, clothing and accessories)
"The acquisitions give us immediate expertise and capabilities in new, more upscale categories of merchandise," says CEO Doug McMillon.
No surprise then that top third-party sellers are following in the footsteps of these giants and why comScore calls category expansion a top growth factor in digital commerce.
According to Forrester, "Many retailers are increasing the number of SKUs they sell online by a factor of 5-to-10 times. Brands too are increasing the number of SKUs they offer with new sub-brands, private label products, and a general diversification of product lines."
You already have a hard time staying competitive – it's only going to get worse.
Bain & Company – a top management consulting firm – conducted a 5-year study on how companies successfully sustain profitable growth and found two major factors. Most of that growth came when a company pushed outside, "… the boundaries of its core business into an adjacent space". In our industry
this can mean expanding into new categories. Second, these companies, "… develop a formula for expanding those boundaries in predictable, repeatable ways." Companies that use a repeatable formula have a success rate of 50-80% or higher.
Some sellers have found that repeatable formula. They found out how to automate and streamline their operational processes. They leverage this advantage in the new categories they enter. Their formula systemizes growth while reducing the complexity and the learning curve that go along with it. That's why they are at the top and poised to go higher.
You need to find that formula too … now.