Restricted Items on Amazon and How to Effectively Manage Them
You've been on Amazon for years, doing everything right – you think! Then you receive the following email: 
"We have removed your selling privileges, cancelled your listings, and placed a temporary hold on any funds in your seller account. We took these actions because you have listed items that are not permitted on Amazon.com."
Banned?! What the …! You sell beauty items – things to make people look good! 
Unfortunately, this is not an isolated incident. Over the past year, hundreds of online merchants got the boot for offering restricted items on Amazon, mostly health and beauty products which contain specific outlawed ingredients.
In the Seller Central forum, one seller whose account was suspended had been selling on Amazon for 6 years and was in the top 10% in 2012! $35k worth of his inventory was frozen in Fulfillment By Amazon (FBA) and he couldn't make a loan payment because tens of thousands of dollars were on hold. His employees were about to lose their jobs if Amazon didn't quickly reinstate his account! 
Etail Solutions can't offer you a magic wand to reinstate your account when it's been suspended – BUT – we do have a solution to help you manage restricted items more effectively.
Introducing our new restricted products functionality! It gives you more robust control over your listings. Previous restriction abilities were mere attributes – this feature is fully functional, with two types of restriction capabilities: item & channel level. Here's what it does for you: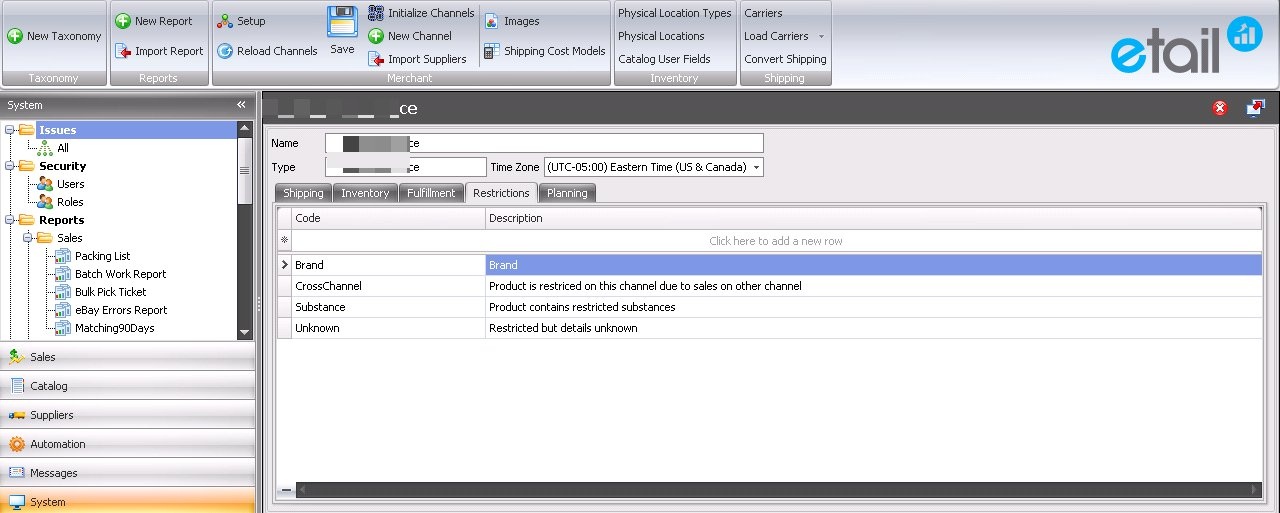 Makes an item fully restricted so it can't be published or sold anywhere
Restricts an item from specific sales channels, while publishing it to others
 

Addresses 'sales channel' based restriction requirements. e.g. Amazon US restricts products with certain ingredients, but eBay lets you sell those items
Eliminates unintentional catalog overlap between Amazon channels for merchants with more than one Amazon channel – allow a sale on Amazon US1, but restrict it on Amazon US2 – you can sell on 2 Amazon accounts without risking duplicate listings, preventing unwarranted account suspension

Searches for ingredients in your listings known to be restricted on Amazon and use our restricted products functionality to restrict the products containing them
Deletes base items marked as restricted from all indicated marketplaces, sets to not populate the 'To Review' section, and blocks on the Item Matching screens
 

Avoids the danger of matching to an item that Amazon does not allow, helping you avoid account suspension
We have also added an automatic hold feature that will place new orders on hold if the sales listing has never been sold before. This allows you to double-check the order and confirm prior to releasing fulfillment. This feature is closely related to the restricted products functionality as the two can work hand in hand to reduce risk for merchants concerned about their listings. 
So, with the powerful restricted products functionality and automatic hold feature you can protect your business from Amazon restrictions and not worry about any unpleasant – and possibly expensive – surprises! There are no guarantees, but now managing and controlling restricted product listings just became a whole lot easier. 
---